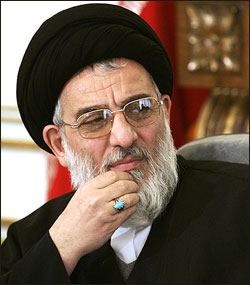 There are several reasons which make Ayatollah Mohammad Hashemi Shahroudi a logical choice to succeed Iran's present Leader Ayatollah Khamenei.
Shahroudi meets all of the requirements for Leader enumerated  by Iran's Islamic Constitution. Unlike the current Supreme Leader, Shahroudi has the "suitability with respect to learning."  He is a scholar of Islamic Jurisprudence and is an instructor in Shi'a theology, neither of which is a part of Khmaenei's biographical profile.
Shahroudi's reputation for "piety,"  another prerequisite for "Rahbar" (Supreme Leader) is evidenced by the favorable way in which his religious khutbahs (sermons) are received by pilgrim congregations. This is particularly the case at Iran's most revered religious shrine, the tomb of Imam Reza in Mashhad, Iran. Moreover, Shahroudi is the un-official Marja (Spiritual Guide) for Iraq's Islamic Dawa Party. He also is rumored to be the personal spiritual guide to Muqtadar al-Sadr, the leader of Iraq's Jayish al-Mahdi (Mahdi's Army).
Personal courage is also a character requirement of the leadership post. Shahroudi appears to possess this virtue in spades, a trait he displayed during his imprisonment and torture in Saddam's Iraq.
Shahroudi's candidacy is additionally favored by his administrative experience, a factor, required by Iran's Islamic Constitution.  He served as head of the Islamic Republic's Judiciary from 1999 to 2009. He also chaired the Secretariat of the Assembly of Experts.
His warm relations with Khamenei are another boost for Shahroudi 's candidacy. Khamenei manifested his trust in Shahroudi's judgment by appointing him Chair of a special committee to adjudicate past disputes between former President Mahmoud Ahmadinejad and the Majles, Iran's Consultative Assembly.
One key advantage is that Shahroudi is not reviled by any regime faction. Shahroudi is admired by the pragmatic wing of regime hardliners. He navigated the turbulent waters of a tumultuous period of social and political upheaval in Iran. He made only superficial concessions to reformers without surrendering any principal doctrinal tenets of regime orthodoxy. He banned several satellite television channels in Iran which had the potential of stirring up societal tension. However, he did not bend under reformist and international pressure to eliminate the death penalty in Iran.  Nevertheless, he demonstrated prudent judgment by de-criminalizing non-violent and petty offenses which generated ill-feelings between the government and ordinary apolitical citizens.  This gesture has endeared him with to some regime reformists.
Shahroudi's familial pedigree is a significant factor buttressing his prospects of becoming Iran's next Supreme Leader. This personal background meets the trust factor of the regime's ruling theocratic-military junta. He was born in Najaf, Iraq of Iranian parents who were themselves descendants of Shi'a theologians. Shahroudi's father was a religious professor at Najaf's School of Theology. His dad still enjoys revered reputation in Qom (Iran's religious center) theological circles  for having compiled the lectures of the late eminent Ayatollah Khoie.  Shahroudi's mother was the daughter of Grand Ayatollah Ali Madadi Mousavi Gayenni. One practical attribute also favors Shahroudi. He is 67, ten years younger, than the present Supreme Leader.
Shahroudi also is a prominent member of two of Iran's most powerful Islamic institutions, the Council of Guardians   and the Assembly of Experts. This advantage is significant in that two of his potential rivals  are not associated with either of these institutions. In the most recent election for the Assembly of Experts, Mohammad Yazdi, Shahroudi's predecessor as Head of the Judiciary failed to receive enough votes to secure continued membership in this theological body. Additionally, former President of Iran and former Chair of the Assembly of Experts, Ali Akbar Rafsanjani did not stand for election. Shahroudi has a solid if not wide base of support within the Assembly, as his prefecture (Razavi-Khorasan) has six representatives in the 88 member body.
Finally, Shahroudi while popular within theological circles, does not have a popular base of support within Iran's citizenry. This fact enhances the trust factor in the judgment of those who fear another populist figure like former President Khatami could destabilize the existing order. Nor has Shahroudi ever given evidence to having a populist agenda which could threaten hardliner dominance.  He is a grey figure like the current Supreme Leader, a personal ingredient which should satisfy the jealous sensitivities of Iran's politically powerful Islamic Revolution Guard Corps.